The murder of George Floyd by a white police officer in May 2020 sparked a global backlash against systemic racism and police brutality and in the UK thousands took to the streets demanding change. The marches on our shores were overwhelmingly peaceful, yet some right-wing commentators seemed obsessed with the tiny pockets of violence between protestors and police. This divisive commentary gained a lot of mainstream traction and tensions across the political divide began to ferment.  On June 7, 2020, the bronze statue of trans-Atlantic slave trader, Edward Colston was toppled and pushed into Bristol Harbour by Black Lives Matter...
---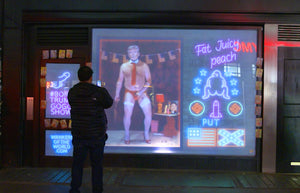 WOTW created an installation portraying Boris Johnson and Donald Trump as prostitutes dancing provocatively in the window of a Soho shop window.  The installation played on the idea of, and obsession with, 'Fake News' within the populist-nationalism that Trump and Johnson represent – creating a believable yet absurd spectacle through the doctoring and distortion of images.
---
In March 2021, Oprah Winfrey interviewed Meghan Markle and Prince Harry in the aftermath of their decision to step down as working members of the British royal family. Markle was attacked relentlessly by the British right-wing media and across social media platforms and seemed to be getting blamed for every problem in the UK. WOTW designed and printed 500 bogus conspiracy theory booklets that 'proved' Markle was in fact responsible for the pain and suffering of the British people throughout history. The booklets were handed out in London on the day the interview aired in the UK. The piece played with the idea of fake...
---
WOTW created a set of Brexit souvenir cigarettes to coincide with Britain crashing out of the EU. They parodied traditional cigarette packaging but the stark government health warnings were twisted into terrifying Brexit scenarios and the notorious imagery of tobacco-induced diseases replaced by grinning faces of Brexit related politicians.     
---
During the 2017 General Election, WOTW created a series of flyers parodying the infamous prostitute advertisement cards seen in central London phone boxes. The cards were distributed throughout London and large-scale versions fly-posted across the city. Each card advertised a different 'political whore' and a real phone number could be dialled to hear a weird political sex line.